Kasa
biography
A student. A novice musician. A blogger. A iPod enthusiast. A manutd supporter. A guitar player. A Barney Stinson worshiper. A Chandler Bing duplicate.
0

March 28th, 2015 + 7:03 AM
·

Kasa
So I am back after a very looooooooong low phase. Hope to make some good music!
0

September 29th, 2011 + 7:09 AM
·

Kasa
I was just "busy" (as you would call it) with other stuff. Have been away from music and Bandamp. I really did miss the Bandamp crowd. Just my first log in after about 7-8 months! Hope to meet new guys soon. Will try to be as updated as i can. Its time for the MUSIC!
0

August 21st, 2008 + 11:08 AM
·

Kasa
hi guys..

i have a problem.. i have searched each and every possibility of buying a good acoustic guitar.. and till now have had no luck at all.. the problem is that the manufacturers like.. Gibson.. fender.. ibanez.. don't have there direct retail outlet or dealer in India.. so all i get are the fake ones.. givson.. hobner.. etc..

i want a good acoustic guitar.. have a budget of rs 10000 or 229 USD.. so how to get a good quality acoustic guitar.. original of course.. in India..

i would like to know is there any possibility?? can anyone help out?? maybe anyone of you guys might purchase it for me and send it to my address?? is it possible.. i can make the payment on Indian rs..

also i would like to know which would be the best buy within my budget.. i am looking for great acoustic sound..

please guys.. it would a great help!!

do reply..!!

Aks
6

July 29th, 2008 + 10:07 AM
·

Kasa
hey guys..
i have been playing acoustic guitar for the past year.. and now am switching to electric.. please suggest a cheap guitar.. whatever manufacturer.. i just want the best within my limits.. and ofcourse what other add ons i would need to get the electric sound.. like metal and distorted ones.. thanks a lot..


i have a budget of around 300$..

aks
5

The music is like the one of my other song.. but i took to the next level.. trying my level best to make a great sound track.. used various instruments.. and hope the composition and the arrangement is like by all! Do criticize..

thanks..
1

Is there a chance
for me and you
I don't know how
(but) I wanna feel you
I know your gone
its sad But true!
Life is cruel but
(damn) I want you

Chorus:
And now….. I don't know
That how…..my life is slow
Its going wild…. Is this a clue
And all I want …. Is to kill you

Bridge
Though you are gone
the phase is on
It does stick deep
the slope is steep
And on I fall
is that a call??
So this is clue
I don't need you?
9

December 23rd, 2006 + 2:12 AM
·

Kasa
This is an sound which was in my mind for around an year and a half...
Finally got it made...
and well this are really looking good..
enjoy it..
and be free to criticize....
and do vote....
Alias:
Kasa
Status: Offline
Threads:
5
Posts:
51
Songs:
2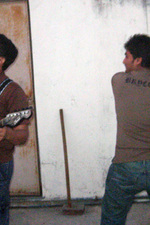 Joined: December 23rd, 2006
Last login: March 28th, 2015
My Messengers
| | |
| --- | --- |
| AIM: | n/a |
| ICQ: | n/a |
| Skype: | n/a |